Less Is More Architect Essay
Dagore
/
As far as architectural aphorisms go, Mies van der Rohe's 'Less is More' seems to succinctly define a modernist ethic. What's less well known however, is that van der Rohe wasn't actually the originator of the phrase, even if it did come to be inextricably linked with him. The pithy observation was, in fact, given its first airing by Peter Behrens, a godfather figure to the young Mies who he drafted in to work on aspects of the AEG Turbine Factory in Berlin, between 1907 and 1910.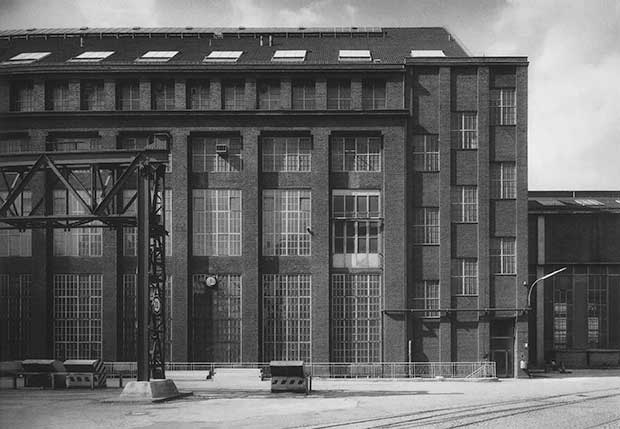 AEG Turbine Factory, west courtyard elevation; Ludwig Mies worked on this elevation while employed by Behrens
Behrens, widely regarded as the first industrial designer in history (he designed the entire corporate identity for Allgemeine Elektrizitäts-Gesellschaft, AEG), was responsible for encouraging the careers of a number of young architects, among them Le Corbusier, Walter Gropius, Adolf Meyer and Jean Kramer. Mies confessed that he had "learned the great form" from Behrens, the quest for which had become a leitmotif for art at the turn of the century, promising to unify all modes of cultural expression.
As recounted by the late Detlef Mertins in the exceptional monograph Mies, the 21-year-old van der Rohe recalled designing the glazing of the west, courtyard elevation of the AEG Turbine Factory, which is considerably more utilitarian in character than the grand street elevation. Beyond the determinants of the technical form Mies said that what he contributed was "indeed almost nothing". And it was in working on this elevation that Mies first came across the infamous expression, 'less is more'.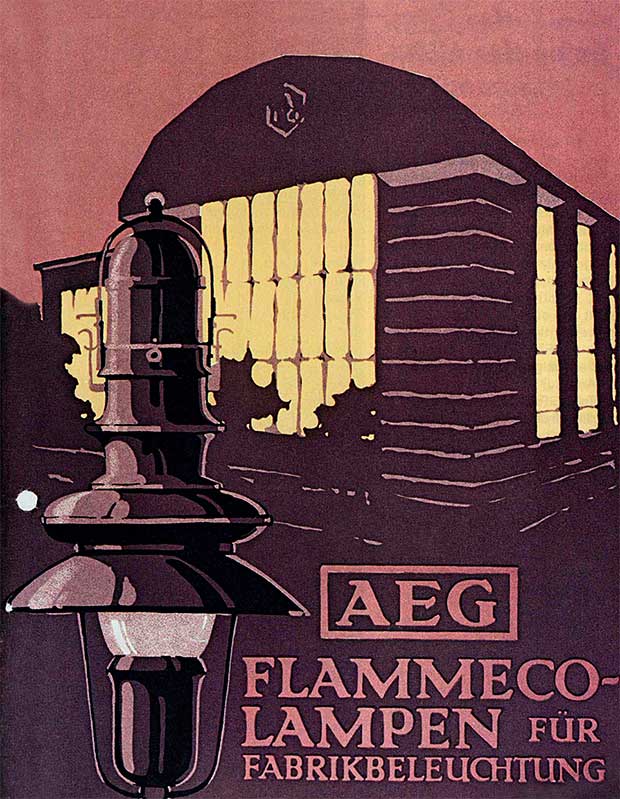 Peter Behrens, poster design for the Allgemeine Elektrizitäts-Gesellschaft (AEG) Behrens's Turbine Factory is shown in the background
"I heard it in Behrens's office for the first time," he later recalled. "I had to make a drawing for a facade for a factory. There was nothing to do on this thing. The columns were 5.75 meters (19 feet). I will remember that until I die. I showed him a bunch of drawings of what could be done and then he said, 'Less is more'," but "he meant it in another way than I use it."
Mies was to return to the phrase again and again, effectively making it his own, referring to his later efforts to reduce and distil buildings and their components into simple forms in which art and technics - geometry and matter - were integrated in a more persuasive tectonic expression than Behrens, his former master, had ever achieved.
If this story has piqued your interest and you'd like to learn more about Mies van der Rohe, the best place to start (and finish) is in our online store where you'll find Mies by Detlef Mertins.
Architect Ludwig Mies van der Rohe, the subject of today's Google Doodle icon, was famous for his dictum "Less is more" and his minimalism design style.
The architect, who was often known only as "Mies," used "modern" materials – industrial steel and glass – to create the "bones" of interiors, while emphasizing  open spaces and simplicity.
Mies was born in 1886 in Aachen, Germany and, after a stint in his father's stone carving business, traveled to Berlin to work with architect Bruno Paul. After apprenticing himself to Peter Behrens, another architect, and working on the embassy for the German Empire in St. Petersburg, Russia, during his time with Behrens, Mies started his own architectural firm in Berlin in 1912. He married the next year.
 It was after his marriage came to an end in 1921 that Mies, formerly known simply as Ludwig Mies, changed his name to Ludwig Mies van der Rohe – Rohe was the maiden name of his mother and "van der" was a traditional part of a Dutch name. Mies possibly added the "van der" section to avoid insulting German aristocrats who would look down on anyone giving him- or herself a self-styled German high-born name without being born to the title.
Mies was inspired by the Prussian architect Karl Friedrich Schinkel, especially Schinkel's use of post and lintel construction, and admired the ideas of the Dutch De Stijl and Russian Constructivism movements. Russian Constructivism embraced using architecture to benefit society, while the Dutch De Stijl philosophy advocated simplicity in architecture, a sentiment that dovetailed nicely with the architect's "less is more" mantra. 
The architect became director of the Werkbund, a German organization of designers, artists and architects who later created the Weissenhof Project, which consisted of 21 buildings that contained 60 residences. The Weissenhof Project was noted for its use of an open plan design on the inside of the homes, a style which creates large open spaces rather than small rooms.
 Mies also served as the director for the German architectural school Bauhaus, turning the school into a private institution when he took the helm, and was a founder of the German architectural group Der Ring, which focused on bringing the ideas of Modernist style to prominence.
 The architect had trouble getting his designs built in the 1930s when the Nazi Party came to prominence in Germany and denounced his ideas as un-German, and Mies was forced to shut down Bauhaus after pressure from the political party. He came to the US. in 1937 and became head of the architecture department at the Armour Institute of Technology in Chicago in 1938, later designing an overhaul of the school's campus. The buildings built by Mies during that time still exist at the school, later renamed the Illinois Institute of Technology.
Later projects included the glass-enclosed Farnsworth House near Chicago, which consists of an open space separated by partitions, and Chicago's Twin Towers. His final work was the Neue Nationalgalerie in Berlin, an art museum which again used his famous building tools of steel and glass.
 While he traveled to Germany during the museum's construction, Mies continued to live in Chicago until his death in 1969.